FTSE continues to fall as this analysis has been expecting.
Summary: FTSE may still be within the middle of a third wave down, and the very middle has not yet passed. Downwards momentum should be expected to increase. The middle of the third wave may end at 5,383. Look out for surprises in this market to be to the downside, not just in price but market behaviour overall.
To see monthly and weekly charts and the bigger picture see last analysis here.
New updates to this analysis are in bold.
WEEKLY WAVE COUNT
From the all time high in April 2015, FTSE has a five down and a three up. This current fall should move well below the end of intermediate wave (1) at 5,768.22 and then remain below that point. Intermediate wave (3) must move beyond the end of intermediate wave (1), far enough below to allow room for a subsequent fourth wave which may not move back into intermediate wave (1) price territory.
A new low below the August low of intermediate wave (1) at 5,768.22 is required and expected.
Minor wave 4 may not move into minor wave 1 price territory above 6,079.79 when minor wave 3 is a complete impulse.
DAILY WAVE COUNT
The current wave down for FTSE may be a strong third wave. It is my judgement that this wave count has a higher probability.
If the next wave down shows an increase in momentum, then this would be confirmed as the preferred wave count for FTSE.
At 4,296 intermediate wave (3) would reach 1.618 the length of intermediate wave (1). When minor waves 3 and 4 within this impulse are complete, then the target may also be calculated at minor degree. At that stage, it may widen to a zone or it may change.
Within intermediate wave (3), I am removing the target for minor wave 3. It will again be calculated when minute waves iii and iv within the impulse are complete. For now I want to focus on the next interruption to the trend expected at the end of minute wave iii.
At 5,383 minute wave iii would reach 1.618 the length of minute wave i. If this target is wrong, it may not be low enough.
The pink channel is a base channel drawn about minute waves i and ii. The lower edge should be breached by a strong third wave, but before that happens that line may provide a little support temporarily. That same line may provide resistance for a throwback when it is breached.
When the base channel is breached, then it may be removed and an acceleration channel drawn.
No second wave correction may move beyond the start of its first wave above 6,011.13 within minuette wave (iii).
I will keep following the alternate in last analysis, but I will publish only one wave count today for reasons of clarity because the alternate does not diverge in terms of short term structure or expected direction at this stage.
TECHNICAL ANALYSIS
DAILY CHART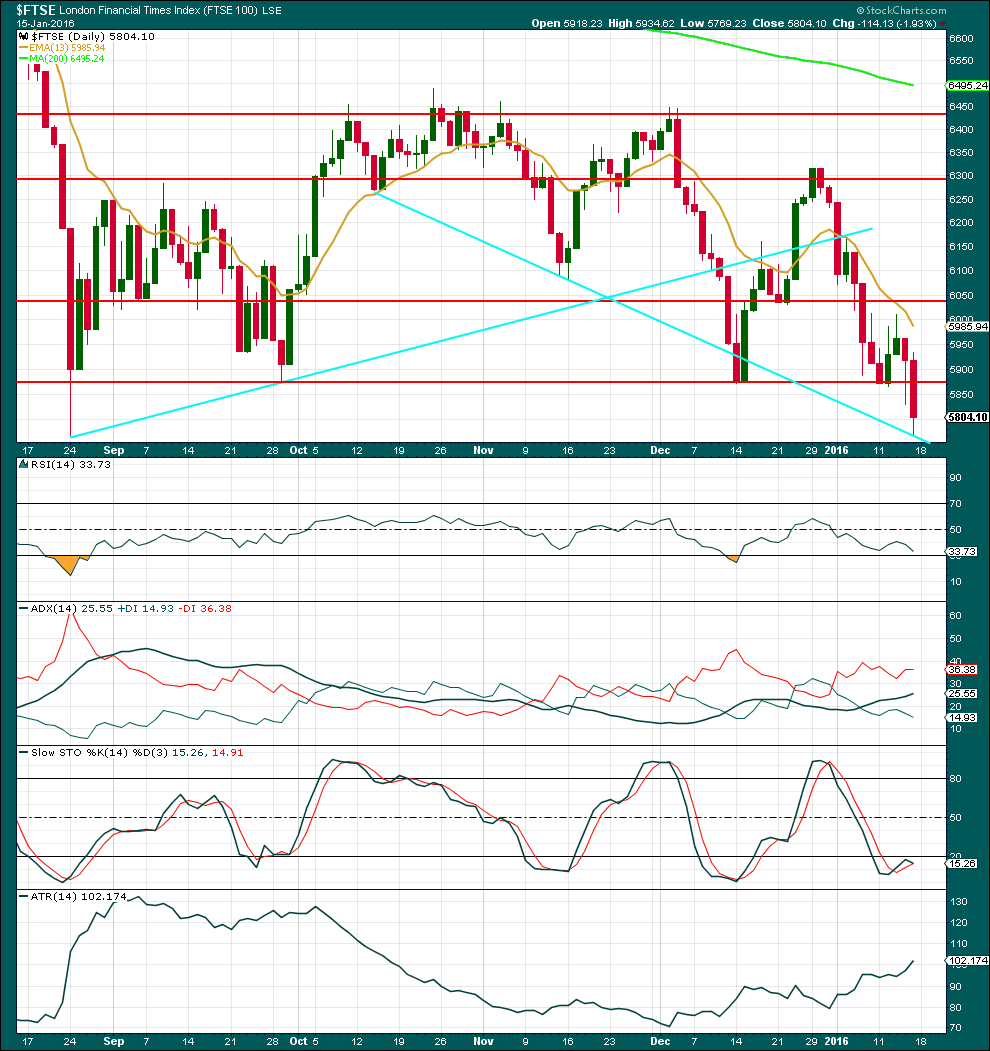 Click chart to enlarge. Chart courtesy of StockCharts.com.
There is no volume data on either the FXCM feed or StockCharts. Volume analysis is done from Yahoo Finance data.
As price falls, it comes with stronger volume consistently. The fall in price is well supported by volume; the strongest volume is seen on downwards days. The volume profile continues to be bearish.
ADX is increasing indicating the market is definitely trending and the trend is down. ATR agrees as it too is increasing.
RSI is not yet oversold. There is still room for this market to fall. RSI can move into extreme oversold and remain there while the market continues to fall in a strong bear move. I will be looking for divergence between price and RSI to indicate a bounce and will not necessarily expect RSI moving into oversold to indicate the end of this third wave.
Stochastics is oversold, but this oscillator may remain extreme for reasonable periods of time during a trending market. It shows a little divergence today between the last low for Friday and the prior swing low of 12th January. This may indicate another small bounce to unfold when markets open next week.
Along the way down, FTSE may find resistance at the 13 day EMA.
This analysis is published about 01:01 a.m. EST on 17th January, 2016.